Jun 17, 2014
Medi-Dose, Inc. / EPS, Inc. Announces MILT 4 Software - now 64 bit compatible
Ivyland PA – Spring 2014 – MILT 4 is the newest 64-Bit compatible version of our industry leading labeling and bar coding software. Every feature of this custom-written program was specifically designed to accommodate the needs of health care professionals just like you. With our large variety of laser and direct thermal labels, you can clearly identify and easily bar code all your medications. With the flexible design options you can include 1-D or 2-D bar codes, graphics, special fonts, tall man lettering, shapes, logos and symbols (such as bio-hazard, NIOSH, etc.) on your labels to highlight important dispensing information and to help minimize medication error.

For more information on the MILT 4, our Medi-Dose packaging system or our LiquiDose labeling, contact Robert Braverman or visit www.medidose.com.

ABOUT MEDI-DOSE, INC. / EPS, INC. – For over 40 years, Medi-Dose / EPS has been working with pharmacists and nurses to develop cost-effective solutions that promote medication safety and error prevention.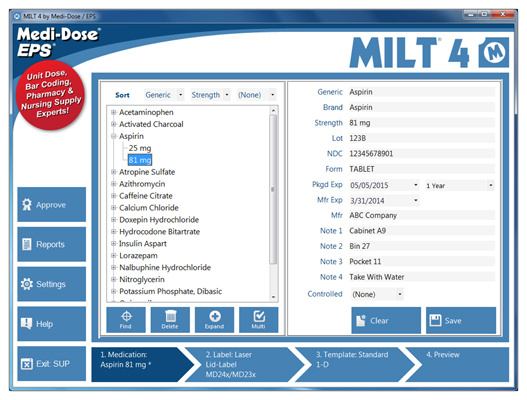 Read More