Nov 06, 2012
Medi-Dose®, Inc. / EPS®, Inc. Announces New ORAL LiquiDose® Butterfly Labels
Ivyland, PA, Fall 2012 – Incidents of patients being dispensed ORAL medication intravenously have been reported by various professional standards organizations. The incorrect labeling and inadvertent use of IV syringes for oral meds has often been cited as causes for these tragic mistakes.

To minimize the potential for error when dispensing ORAL medication, EPS has released 6 new LiquiDose Butterfly Labels…all with a distinct ORAL imprint. Available in White, Blue, Red, Green, Yellow and Orange, all EPS LiquiDose Butterfly labels can be printed with a regular laser printer. Their unique hourglass design provides practitioners ample area for medication identification without covering important markings on the item being labeled.

The label's ORAL imprint is strategically placed so as not to limit the space for necessary labeling information. When used with the company's inexpensive MILT 3.0 software, pharmacists and nurses can take advantage of all the formatting and reporting capabilities the program has to offer. Bar Codes, Graphics, Special Fonts, Tall Man Lettering, Shapes and Logos can all be included on the labels.

"Every hospital has unique requirements," said Bob Braverman, Director of Marketing. "The new ORAL Butterfly labels help facilities call attention to information they believe vital in promoting safety and practitioner awareness, while reducing the potential for medication error."

These new ORAL imprinted Butterfly labels have been designed to withstand rough use and storage in drawers or bins. The aggressive adhesive ensures that labels won't be detached from their applied surfaces (syringes, ampules, etc.)

For more information on the EPS LiquiDose Butterfly Labels and the complete line of Oral Syringes and Dispensers, please visit www.MediDose.com, call 800-523-8966 or e-mail info@medidose.com.

ABOUT MEDI-DOSE, INC. / EPS, INC. - For over 40 years, Medi-Dose / EPS has been working with pharmacists to develop cost-effective solutions that promote medication safety and error prevention.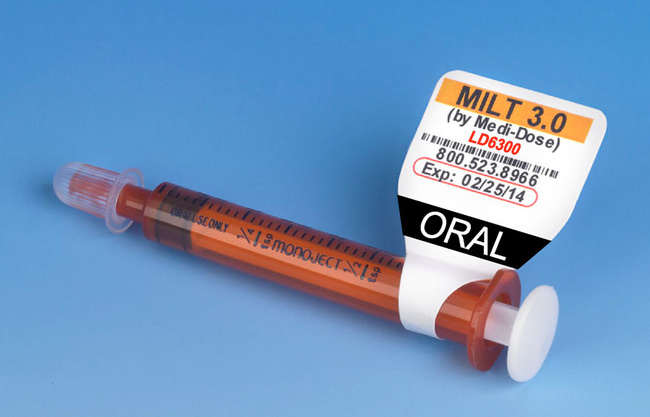 Read More