Booth #7193
Integral Solutions Group

Setting Quality Standards!

| | | | | |
| --- | --- | --- | --- | --- |
| Prescription Labels | Medication Packaging | Nursing Home Forms | Pharmacy Bags | Computer Supplies |

Integral Solutions Group provides the critical link between your software system and business essentials. We have been a leader in researching, developing and designing new products for the health care industry that utilizes new technology as it penetrates the market. Visit our website to browse our shopping cart for a comprehensive list of the products that we provide.

ISG specializes in offering the key components that pharmacies and long term care facilities need for their pharmacy management systems and daily operations. We carry a wide range of stock products and our custom printed options are limitless for labels, forms, bags and medication cards. ISG offers products that are compatible with various automated dispensing system and all of our products are 100% guaranteed.

Our knowledgeable customer service staff are eager to assist you in designing solutions for your business.

Below are some of the products that ISG offers:

Prescription Labels

Laser, Thermal, Dual-Web and Dot Matrix

Medication Packaging

Cold and Heat Seal Cards
Blisters and Sealing Trays
Sealing Equipment

Nursing Home Forms

Medication Administration Records
Treatment Records and Physician's Orders

Pharmacy Bags

Prescription and Over the Counter
Paper and Plastic

Computer Supplies

New, Reconditioned and Compatible Toners
Ribbons
Backup Media
integral solutions group on pharmacy drug store suppliers, pharmacy and drug store supplies, unit dose packaging systems, pharmacy supplies. supports pharmacies, hospitals, long term care facilities, HME businesses and governmental agencies in laser, dual-web combinations, paper, pressure sensitive and thermal labels also provide laser, continuous, multi-part, snap-out and pressure seal forms. Product line is prescription labels, medication cards, forms, bags, envelopes, printer consumables, POS products. Retail and custom Prescription Labels, prescription pads, stock and custom prescription Bags, statements, envelopes, claim forms, miscellaneous labels, LTC prescription labels, long term care forms, toner cartridges and medication cards.
Booth #8460
McKesson Pharmacy Systems

Rx Labels, Forms, and Supplies

McKesson Printing Services is your single source for high quality printed products and supplies for the pharmacy industry. With more than 30 years experience and dedication to our pharmacy customers, we enable you to create a personalized, professional image with high quality printed products essential to pharmacy operations.

McKesson Printing Services offers a wide range of products, with experience and customer service that is unmatched in our industry. We focus entirely on the needs of your pharmacy and the printing services you require.

Customer service and satisfaction are at the core of McKesson's companywide shared principles. We can even overnight the many products you require when time is critical. Our investment in people and technology ensures that you can offer your customers the best in printing quality. McKesson Printing Services will satisfy your printing needs in today's dynamic pharmacy environment.

Printing Services We Offer:

Full Page Laser Rx Labels - Our most popular standard label styles. In addition to these items, we also produce custom Rx labels. For a more professional image, consider custom labels. Your label order will be shipped approximately six weeks after the order is placed, and you have approved the proof of your new artwork. In case of an emergency, we always stock blank labels for your convenience.

Laser Rx Labels (LL Series™) - The LL Series™ of label styles are for use with Pharmaserv®. These labels have peel-off tabs for printing caution messages associated with the dispensed drug. The tabs can be used for drug information or any additional information that may be useful for your pharmacy. The actual text message from your drug file is printed on the tabs to eliminate the use of separate caution labels.

Piggyback Rx Labels - Piggyback, pressure-sensitive, self-adhesive labels provide a duplicate label. These labels are designed for filling prescriptions for Long Term Care Facilities. They allow for easy refill ordering by the facility with two labels in one. Information printed on the top label is automatically duplicated to a second, separate label. Rounded corner labels are featured for easy dispensing and a permanent adhesive is used to adhere the label to the vial. All vertical slits are moveable and can be positioned as desired. These are just a few of the many styles we offer. Select one of ours, or send us your label to duplicate.

Direct Thermal Rx Labels - Direct Thermal Labels provide a quick, dependable way to improve the workflow process in your pharmacy.

Fast and easy to use
High-quality print
Reduce hardware maintenance
Improved turn-around
Improved customer satisfaction

License Plates, Back Tags & Bag Labels

EnterpriseRx™ Monograph Receipt - In addition to these stock items, we also produce custom Monograph Receipts and PILs with your store's logo for a more professional look.

Accounts Receivable Forms and Envelopes

Long Term Care Forms - Dot Matrix Forms & Laser Forms

Supplies

Toners
Back-up Tapes
POS Register Tape
Prescription/Receipt Pads

Prescription Bags

Stock Rx Bags
Custom Square Bottom Bags
Custom Rx Bags

Label Art and Design - McKesson Printing Services has a fully equipped Graphics Department. We can duplicate your current label, or design a new layout for you. This page shows some of the many logos and art clips you can choose from as part of your label design.
McKesson Printing Services Rx Labels, Forms, and Supplies on pharmacy labels and supplies. Full Page Laser Rx Labels, Laser Rx Labels (LL Series™) with Piggyback Rx Labels. Direct Thermal Rx Labels and License Plates, Back Tags & Bag Labels also Accounts Receivable Forms and Envelopes Prescription Bags and Label Art and Design on pharmacy supplies bags and labels.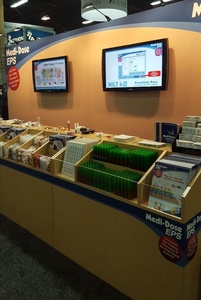 Booth #7183
Medi-Dose

The Medi-Dose® Group, known for its innovative solid and liquid oral unit dose packaging systems, has always had deep roots---family roots. This is not surprising since Medi-Dose began as a small family business. Medi-Dose was founded in 1971 when Milton Braverman, a former pharmaceutical company Territory Manager, formed his own company.

While developing Medi-Dose, we were often asked for other products. "Hey... why don't you have... ?" "Yo, I need... Can you get it for me?" So, we started EPS®, Inc. We were asked about liquid packaging to complement our solid oral systems. So, we developed TampAlerT®. We were asked about IV preparation. So we developed a line of IV additive disposable accessories. Filters? Yes! Tapes & Labels? Done! Trays, totes and bins? You got it! Bags? Absolutely! And that is how the EPS product line grew to what it is today.

Medication packaged and dispensed in syringes, ampules, tubing, suppositories and odd shaped bottles often pose unique labeling challenges for pharmacists and nurses. Conventionally shaped labels often prove inadequate for adhering to irregular shapes. Additionally, the same vital labeling that's placed on the medication being dispensed needs to be recorded on the original medication bottle or package as well as the patient record.

MILT® Makes It Easy!
Medi-Dose Information labeling Technology

MILT® the dynamic new unit dose labeling software for the Medi-Dose® and EPS LiquidDose® packaging systems, offers innovative bar coding, increased security and enhanced medication identification awareness - all for a surprisingly affordable price. Using advanced technology, MILT® by Medi-Dose® makes it easy to achieve optimum accurate, protection and performance for all your solid and liquid unit dose syringe and ampule labeling needs.
Medication Vials discount Prescription / RX Labels wholesale Printer Toner Cartridges jobber Medication Bags Pharmacy direct from manufacturer Supplies companies drug store suppliers vendors supply companies
Booth #7182
Health Care Logistics

At Health Care Logistics, we believe that outstanding Customer Service is one of the most
important assets we provide. And HCL will resource non-stock health care items for you at no
additional charge!

HCL OFFERS:
Live phone service from 8:00AM to 8:00PM, EST Monday through Friday
Fast, friendly, knowledgeable assistance
Fast turnaround - most of our orders are shipped out the same day
No minimum order requirements
Small package quantities
Free samples on many consumable items
15-day trial evaluation period
Search capabilities of non-stock products

HCL STOCKS AN EXTENSIVE SELECTION OF:
Bins & Liners
Boxes, Totes & Cases
Cabinets & Shelving
Carts & Accessories
Cassettes
Compounding & Dispensing Supplies
Crushers, Cutters & Cups
Error Prevention & Patient Safety Supplies
Infection Prevention Products
IV Accessories & Injectables
Labels, Magnets, Signage & Stamps
Narcotics Cabinets
Nursing Supplies
Pharmacy Supplies
Plastic Bags
Plastic Options
Refrigerators & Refrigerator Boxes
Room Accessories
Security Seals
Temperature Monitoring & Storage Supplies
Unit Dose Solutions
Medication Vials discount Prescription RX Labels wholesale Printer Toner Cartridges jobber Medication Bags Pharmacy direct from manufacturer Supplies companies drug store suppliers vendors supply companies

Booth #7190
Pharmex

With 58 years of experience Pharmex® is a full service pharmacy supply company providing pharmacists with everything from labeling solutions to the vials they are applied to. Working closely with pharmacists Pharmex is in touch with the tools needed to run a pharmacy more efficiently. As an innovator in the industry, Pharmex is continually evolving its product line to stay in step with the changes in technological advancements in the market. Pharmex does not only supply the warning labels that pharmacies apply but also offers software to generate on demand warning labels. The newly released SoftFonts 7.0 is the leader in the prescription warning label industry. SoftFonts 7.0 will keep pharmacists up to date on all new drug warnings by updating your software monthly with input from Medispan and First Databank. Pharmex® is also the industry leader in manufacturing stock and custom laser and thermal labeling solutions. These labels are compatible with most software systems and printers. With advancements in pharmacy technology, Pharmex® has developed labeling solutions compatible with various automated dispensing and labeling systems used in both retail and mail order pharmacies. Contact us today to find out more about our labeling and product solutions and how our revolutionary new C2Rx product offering will change the image of the industry.

---

Soft Fonts™ - JUST RELEASED VERSION 7.0

Software Formatted Warning Labels INSIDE the Pharmacy Software. Soft Fonts™ allows greater accuracy, flexibility and cost savings.

From inventing the first pre-printed label and award-winning dispenser, to SIMMS, DIMMS and PharmexPort™ for your printer to our state-of-the-art Soft Fonts™ technology. Pharmex continues setting standards in warning label message development and label dispensing innovation.

---

FLICKAWAY® TECHNOLOGY

FAST! the ViaLabel wraparound feature, with warning label FlickAway® technology, eliminates the task of peeling individual labels from a form or dispenser. Guaranteed to be four times FASTER than any other form.

Practical! FlickAway® technology can be incorporated into YOUR custom designed laser script set... OR... Save even more money with stock PharmeXcripT® laser script forms.

Professional! Just place ONE ViaLabel quickly and neatly on the vial to provide a professional looking package for your customer.

AVAILABLE! Choose from any of our stock generic styles or include FlickAway® in your custom design.

Supported by ALL major Pharmacy System Vendors.

---

For information about our other product offerings or to learn more about Pharmex, please use the links provided below.
Medication Vials discount Prescription RX Labels wholesale Printer Toner Cartridges jobber Medication Bags Pharmacy direct from manufacturer Supplies companies drug store suppliers vendors supply companies warning labels. Pharmex FlickAway® technology and Soft Fonts on pharmacy bags labels vials and toner.

Booth #8459
Rx Systems, Inc. is a full-service provider of pharmacy packaging and supplies. For over 30 years, Rx Systems has helped pharmacies develop products and strategies to serve their patients better, and more efficiently. Rx Systems offers labels, forms, bags, vials, counter supplies, medication carts and pill cards for all types of pharmacy markets, including: Retail, Institutional, Geriatric, Correctional, Hospital, and Mail Order.

Our company has prospered through reinvestment in manufacturing and distribution. In 1979, Rx Systems, Inc. was created with the intent of providing a one-stop shop for pharmacy supplies. Beginning with 2000 sq. ft. of distribution space, our company now occupies over 100,000 sq. ft. of manufacturing and warehousing space, including sites in Hanover, PA, Richardson, TX, Chandler, AZ, and our main facility in St. Charles, MO. The success of our company began with a simple slogan that still holds true today, "Customer Service is Our Business."

Rx Systems provides laser and thermal labels that are supported by all major software companies, and can also help design a custom format exclusively for your pharmacy. Custom pharmacy bags are an excellent way to provide advertising for your pharmacy while paying similar pricing for stock bags. Let us create a custom design or use your own logo. Rx Vials are the number one way to reduce expenses on disposable supplies. By offering three closure types, Rx Systems has a vial that meets your needs. We save the average pharmacy 15-30% on vials.
RX Labels wholesale Printer Toner Cartridges jobber Medication Bags Pharmacy direct from manufacturer Supplies companies drug store suppliers vendors supply companies

Booth #7185
Pharmacy Automation Supplies

Pharmacy Automation Supplies (PAS) is an industry leading manufacturer and distributor of pharmacy supplies & packaging dedicated to supporting the entire vertical market of pharmacy with all the consumables used in their operations. Our mission is to help pharmacies save time, and increase profits, efficiency, and productivity. Over the past 100+ years our reputation for quality and dedication to competitive pricing that has helped transform us from a small printing company to one of the must relied upon suppliers in the entire industry for:

Pharmacy Labels – Our thousands of formats can be customized to help brand your pharmacy with many of the most popular designs also available in stock formats for smaller releases at long run pricing. Formats include:

Laser Mated Sheets for use in Lexmark, HP, Kyocera, & all laser printers which offer the convenience of the "all-in-one" form preferred by many retail pharmacies.
Direct Thermal Labels for Zebra, Cognitive, Datamax, & more can be used to help improve pharmacy workflow at high volume locations and specialty locations like LTC, Hospital, Infusion, and more.
Thermal labels for Vial filling robots eliminate the role of 3rd parties, brokers, and middlemen (like the robot companies themselves) who re-sell these labels with a markup.
Perforated patient monograph/consultation forms that can be customized to provide a professional looking patient consultation printout and used in combination with thermal labels.
Long Term Care labels with re-order pull tabs or on piggyback material increases pharmacy flexibility/ options and are frequently used with blister cards
Specialty labels of all shapes and sizes can be customized for specialty application including IV's, Syringes, "Flag Labels", Refrigerated prescriptions, Unit of use items, and more.
Thermal transfer labels meet all Class A packaging standards

Paper Prescription Bags:

8 different sizes provide flexibility to accommodate everything from small vials to large items like nebulizers
Custom printing on runs as short as 12,000 allows all pharmacies the opportunity to promote their location with printing consistent with the other branding in use
Complementary freight on orders of 51,000 or more, mix & match, provides an additional discounts for bulk purchasing
Pharmacy Automation Supplies is one of the only manufacturers in the industry that uses exclusively 35# bleached clay coat gloss paper which is preferred in pharmacy.

Blister Cards:

30, 31, and 32 day heat seal cards provide unit does solutions for all volumes and levels of automation.
32 day unit dose cold seal cards provide the flexibility for all locations who prefer an alternative to purchasing heat seal presses.
Multi-Dose cards allow pharmacists to deliver an entire week's worth of medication in a single card organized by med-pass.

Thermal Ribbons for all thermal transfer printers known to be used in pharmacy
Plastic T-Shirt bags which offer a cost effective solution to large paper bags and can be purchased in both stock and custom options.
Authentic Lexmark Printer Supplies including both toners & imaging units for all printers ranging from T620 to Brand new MS811 are available for immediate release with FREE freight!

Contact one of our pharmacy support specialists today to learn how our solutions can support your operations AND help you save money in an increasingly competitive marketplace.
Medication Vials discount Prescription / RX Labels wholesale Printer Toner Cartridges jobber Medication Bags Pharmacy direct from manufacturer Supplies companies drug store suppliers vendors supply companies