Booth #8459
Rx Systems, Inc. is a family owned manufacturer and full-service provider of pharmacy packaging and supplies that provides independent community and institutional pharmacies with quality products including Rx labels, bags, vials, medication carts and pill cards.

Our company has prospered through reinvestment in manufacturing and distribution. In 1979, Rx Systems, Inc. was created with the intent of providing a one-stop shop for pharmacy supplies. Beginning with 2000 sq. ft. of distribution space, our company now occupies over 150,000 sq. ft. of manufacturing and warehousing space, including sites in Hanover, PA, Richardson, TX, Gilbert, AZ, and our main facility in St. Charles, MO. The success of our company began with a simple slogan that still holds true today, "Customer Service is Our Business."

RX LABELS - Rx Systems provides laser and thermal labels that are supported by all major software companies, and can also help design a custom format exclusively for your pharmacy. Stock labels are available in the most popular formats.

CUSTOM BAGS - Custom pharmacy bags are an excellent way to improve your Star Ratings measures. Request our Star Ratings bag flier to gather some ideas and start the process. Custom bags only cost the average pharmacy an extra $10 per month vs. a stock bag from your wholesaler. Start building your BRAND now.

VIALS - Rx Vials are the number one way to reduce expenses on disposable supplies. By offering three closure types, Rx Systems has a vial that meets your needs. Our U.S. Made Traditional and Reversible vials save the average pharmacy 15-30% vs. other domestic vial lines.

TONER – We offer a full line of Lexmark Brand Remanufactured cartridges including the new MS Series. Ask about our Exclusive Vendor Agreement (EVA) bundling program that allows for Buy 1, Get 1on Lexmark Brand T-Series Reman. cartridgeswhen we supply your Rx labels.

PILL CARDS – Heat Seal & Cold Seal monthly or weekly adherence packaging is available. Visit our website to view an extensive Long Term Care catalog highlighting the many varieties that are available.
RX Labels wholesale Printer Toner Cartridges jobber Medication Bags Pharmacy direct from manufacturer Supplies companies drug store suppliers vendors supply companies
Booth #7182
Health Care Logistics

Pharmacy Bags, Bins, Labels, Vials
Plastic bags are among the most versatile products in our inventory. Whether you use them for storing or dispensing medication, organizing supplies or protecting crash cart box contents, you can find the exact style and size bags for all your enclosure needs at Health Care Logistics. Our selections include preprinted and custom printed bags, amber bags for light sensitive medication and security bags for traceability and chain-of-custody reporting. Specialized bags also are available for chemo and biohazard waste.

Bins
Few storage products can call themselves as "virtually unbreakable" and actually mean it, but our Super Tough Bins live up to their name and look good doing it, too. We stock Super Tough Bins in 12 sizes and 14 colors to help you sort and organize items with the added benefit of color-coding. Control inventory, shorten assembly time and minimize parts handling with these durable, long-lasting bins that can stand up to just about anything! Stack your bins to save space or hang them from panels to create a convenient picking station. Add dividers to further organize contents or lids to protect items from dust and debris.

Labels
With personalized labels in place, users can work more efficiently and achieve greater results because they spend less time searching for supplies or identifying contents inside a cart, bin or cabinet. Likewise, specially made labels can easily convey precise information and reduce the risk of confusion that can lead to costly medical mistakes. Made-to-order labels are available in multiple sizes and styles to meet virtually any need or application. Add barcodes, graphics and colors to create a truly unique label that improves communication in the busy medical setting. Create your own label on our website or work with one of our talented print specialists to create your one-of-a-kind label design.

Vials
HCL offers wide range of pharmacy vials to meet all drug dispensing needs, including Sterile Empty Vials in six sizes to meet a range of medication preparation demands. Dry-heat sterilized vials are made of Type 1, USP, borosilicate glass. Calibrated Window Strip Vials are another option to improve medication dispensing accuracy and patient safety. Vials feature clear window strips to make it easy to see precisely how much medication is inside each container. When used with our Calibrated Droppers, they make an ideal choice for delivering oral liquid narcotics and similar medications.
Medication Vials discount Prescription RX Labels wholesale Printer Toner Cartridges jobber Medication Bags Pharmacy direct from manufacturer Supplies companies drug store suppliers vendors supply companies
Booth #10653
Drug Package, Inc.

For over 133 years Drug Package has been a leading provider of supplies to pharmacies nationwide. Drug Package knows your pharmacy packaging supply needs. Our product line encompasses everything from Laser Labels, Thermal Labels, Computer Labels, Pharmacy Bags, Prescription Blanks, Apothecary Equipment, Long Term Care Supplies and much more.

As a leader and innovator of new products in the pharmacy industry, Drug Package stands alone. It has been our goal to keep pace with changing technology and anticipate new product demands. Pharmacists depend on the quality products and excellent service that Drug Package supplies. All our products feature top quality materials and expert craftsmanship. We work hard to maintain our reputation for responsive customer service and on-time delivery of both stock and custom orders.

LASER LABELS

Labels in configurations to match all pharmacy software programs, feature adhesive-backed prescription labels and quality bond paper for patient information and receipts.

THERMAL LABELS

Standard and infrared scannable thermal labels for direct or transfer printers. Label formats available to match all pharmacy software programs. Stock and custom printed labels available.

COLORFUL CUSTOM PAPER BAGS

Customer pleasing, economical stock bags in eye-catching colors and design choices appropriate for holiday or everyday use. Available in 3 bag styles and a variety of sizes. Many designs may be ordered imprinted with your pharmacy name and logo.

MEDICATION PUNCH CARDS

Cold seal or heat seal cards with clear or amber blisters. Choose blister counts from 7 to 90 days and blister sizes from small to extra large. Cards designed for both long term care facilities and home care provide ample room for necessary labeling, are clearly printed to highlight dispensing schedule and countdown for medication reorder.

DISPENSING SUPPLIES

A full line of supplies for preparing and packaging customer medications is in stock, ready for immediate shipment. You'll find everything from mortars and pestles to suppository molds, pill counters to mediation vials, file folders to toner cartridges, medication record books to date stamps and much more.

Contact Drug Package for specific information on any stock products and help with all your custom product requirements.
Pharmacy supplies and suppliers Laser Labels, Computer Labels, Prescription Blanks, Designer Bags, Apothecary Equipment and Nursing Home Supplies Lexmark Approved Laser Label Computer Labels Pressure Sensitive Labels Multi-Med Home Care Kit Cold Seal Medication Cards & Supplies Heat Seal Medication Cards & Supplies Medication Carts Designer Bags Controlled Unit Dose System
Booth #7193
Integral Solutions Group

Setting Quality Standards!

Prescription Labels
Medication Packaging
Nursing Home Forms
Pharmacy Bags
Computer Supplies

Integral Solutions Group provides the critical link between your software system and business essentials. We have been a leader in researching, developing and designing new products for the health care industry that utilizes new technology as it penetrates the market. Visit our website to browse our shopping cart for a comprehensive list of the products that we provide.

ISG specializes in offering the key components that pharmacies and long term care facilities need for their pharmacy management systems and daily operations. We carry a wide range of stock products and our custom printed options are limitless for labels, forms, bags and medication cards. ISG offers products that are compatible with various automated dispensing system and all of our products are 100% guaranteed.

Our knowledgeable customer service staff are eager to assist you in designing solutions for your business.

Below are some of the products that ISG offers:

Prescription Labels

Laser, Thermal, Dual-Web and Dot Matrix

Medication Packaging

Cold and Heat Seal Cards
Blisters and Sealing Trays
Sealing Equipment

Nursing Home Forms

Medication Administration Records
Treatment Records and Physician's Orders

Pharmacy Bags

Prescription and Over the Counter
Paper and Plastic

Computer Supplies

New, Reconditioned and Compatible Toners
Ribbons
Backup Media
integral solutions group on pharmacy drug store suppliers, pharmacy and drug store supplies, unit dose packaging systems, pharmacy supplies. supports pharmacies, hospitals, long term care facilities, HME businesses and governmental agencies in laser, dual-web combinations, paper, pressure sensitive and thermal labels also provide laser, continuous, multi-part, snap-out and pressure seal forms. Product line is prescription labels, medication cards, forms, bags, envelopes, printer consumables, POS products. Retail and custom Prescription Labels, prescription pads, stock and custom prescription Bags, statements, envelopes, claim forms, miscellaneous labels, LTC prescription labels, long term care forms, toner cartridges and medication cards.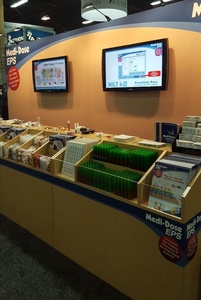 Booth #7183
Medi-Dose

The Medi-Dose® Group, known for its innovative solid and liquid oral unit dose packaging systems, has always had deep roots---family roots. This is not surprising since Medi-Dose began as a small family business. Medi-Dose was founded in 1971 when Milton Braverman, a former pharmaceutical company Territory Manager, formed his own company.

While developing Medi-Dose, we were often asked for other products. "Hey... why don't you have... ?" "Yo, I need... Can you get it for me?" So, we started EPS®, Inc. We were asked about liquid packaging to complement our solid oral systems. So, we developed TampAlerT®. We were asked about IV preparation. So we developed a line of IV additive disposable accessories. Filters? Yes! Tapes & Labels? Done! Trays, totes and bins? You got it! Bags? Absolutely! And that is how the EPS product line grew to what it is today.

Medication packaged and dispensed in syringes, ampules, tubing, suppositories and odd shaped bottles often pose unique labeling challenges for pharmacists and nurses. Conventionally shaped labels often prove inadequate for adhering to irregular shapes. Additionally, the same vital labeling that's placed on the medication being dispensed needs to be recorded on the original medication bottle or package as well as the patient record.

MILT® Makes It Easy!
Medi-Dose Information labeling Technology

MILT® the dynamic new unit dose labeling software for the Medi-Dose® and EPS LiquidDose® packaging systems, offers innovative bar coding, increased security and enhanced medication identification awareness - all for a surprisingly affordable price. Using advanced technology, MILT® by Medi-Dose® makes it easy to achieve optimum accurate, protection and performance for all your solid and liquid unit dose syringe and ampule labeling needs.
Medication Vials discount Prescription / RX Labels wholesale Printer Toner Cartridges jobber Medication Bags Pharmacy direct from manufacturer Supplies companies drug store suppliers vendors supply companies

Booth #7185
Pharmacy Automation Supplies

Pharmacy Automation Supplies (PAS) is an industry leading manufacturer and distributor of pharmacy supplies & packaging dedicated to supporting the entire vertical market of pharmacy with all the consumables used in their operations. Our mission is to help pharmacies save time, and increase profits, efficiency, and productivity. Over the past 100+ years our reputation for quality and dedication to competitive pricing that has helped transform us from a small printing company to one of the must relied upon suppliers in the entire industry for:

Pharmacy Labels – Our thousands of formats can be customized to help brand your pharmacy with many of the most popular designs also available in stock formats for smaller releases at long run pricing. Formats include:

Laser Mated Sheets for use in Lexmark, HP, Kyocera, & all laser printers which offer the convenience of the "all-in-one" form preferred by many retail pharmacies.
Direct Thermal Labels for Zebra, Cognitive, Datamax, & more can be used to help improve pharmacy workflow at high volume locations and specialty locations like LTC, Hospital, Infusion, and more.
Thermal labels for Vial filling robots eliminate the role of 3rd parties, brokers, and middlemen (like the robot companies themselves) who re-sell these labels with a markup.
Perforated patient monograph/consultation forms that can be customized to provide a professional looking patient consultation printout and used in combination with thermal labels.
Long Term Care labels with re-order pull tabs or on piggyback material increases pharmacy flexibility/ options and are frequently used with blister cards
Specialty labels of all shapes and sizes can be customized for specialty application including IV's, Syringes, "Flag Labels", Refrigerated prescriptions, Unit of use items, and more.
Thermal transfer labels meet all Class A packaging standards

Paper Prescription Bags:

8 different sizes provide flexibility to accommodate everything from small vials to large items like nebulizers
Custom printing on runs as short as 12,000 allows all pharmacies the opportunity to promote their location with printing consistent with the other branding in use
Complementary freight on orders of 51,000 or more, mix & match, provides an additional discounts for bulk purchasing
Pharmacy Automation Supplies is one of the only manufacturers in the industry that uses exclusively 35# bleached clay coat gloss paper which is preferred in pharmacy.

Blister Cards:

30, 31, and 32 day heat seal cards provide unit does solutions for all volumes and levels of automation.
32 day unit dose cold seal cards provide the flexibility for all locations who prefer an alternative to purchasing heat seal presses.
Multi-Dose cards allow pharmacists to deliver an entire week's worth of medication in a single card organized by med-pass.

Thermal Ribbons for all thermal transfer printers known to be used in pharmacy
Plastic T-Shirt bags which offer a cost effective solution to large paper bags and can be purchased in both stock and custom options.
Authentic Lexmark Printer Supplies including both toners & imaging units for all printers ranging from T620 to Brand new MS811 are available for immediate release with FREE freight!

Contact one of our pharmacy support specialists today to learn how our solutions can support your operations AND help you save money in an increasingly competitive marketplace.
Medication Vials discount Prescription / RX Labels wholesale Printer Toner Cartridges jobber Medication Bags Pharmacy direct from manufacturer Supplies companies drug store suppliers vendors supply companies

Booth #13004
A Patient Drug Information Company

Complete • Current • Trusted

Drug Knowledge, LLC promotes greater awareness and the safe use of medications through proprietarily developed Drug Informational Databases, which can be used to:

Educate patients about their medications for increased medication adherence/compliance
Inform health care providers on important aspects of a medication to communicate to the patient or caregiver




Drug Information Databases

Drug Knowledge's propriety Drug Information Databases make up the Comprehensive Medication Counseling Database (CMCD)™. The (CMCD)™ containers over 220,000 unique NDCs (Rx and OTC) with patient information coded to the Dosage Form and Route of Administration. The full (CMCD)™ is comprised of the following databases:

Mini-Medication
Patient Medication Advisories
Therapy Monitoring Monographs (ideal for nursing homes and institutions)

The full database can be incorporated into various software platforms, including Electronic Medical Records, Medical/Pharmaceutical software, and mobile applications - wherever Patient Drug Information needs to be accessed.

Adherence is enhanced when a patient understands their condition, and the benefits of their treatment.
Drug database, patient drug information company, drug information database, medication adherence, compliance, comprehensive medication counseling database, CMCD, databases