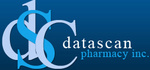 Booth #10044
Datascan / DCS Pharmacy, Inc.

DATASCAN (DCS Pharmacy, Inc.) has been serving the needs of independent pharmacies for 30 years. We provide both hardware and software solutions designed to help your pharmacy become more profitable and operate more efficiently.

Datascan provides many products to aid owner/pharmacists to run their businesses in an efficient manner. We develop and maintain all of our software in-house, allowing us to make changes in a timely manner whether it involves new state or federal requirements or new features requested by our customers.

DCS Point of Sale

What sets our Point of Sale system apart from our competition is the fact that it was written and designed here, in house, with independent pharmacies in mind. As with our WinPharm software, we are constantly improving on our POS software and making changes based off requests and feedback from our clients. Our full featured Point of Sale system integrates into our WinPharm application allowing to quick-add customers from the pharmacy database as well as auto download of co-pay due when scanning the RX at the checkout.

DCS Point of Sale Features:

FSA/IIAS Compliant
SIGIS certified
Pseudoephedrine sales management
Reduce operator error with highly accurate omni-directional scanning technology
Automatic purchase order creation through re-order points by item
Electronic purchase orders with most vendors
Automatic inventory quantity update from vendor responses on purchase orders
Manufacturer's coupons supported and verified including expiration date
Outside photo developing cost scanning
Loyalty program interface to keep customers coming back
PCI compliance for credit card processing
Competitive rates for processing credit cards
Real time / Fast credit card and debit card acceptance

WinPharm

WinPharm, Our primary product is used by hundreds of independent pharmacies and MD dispensaries around the country. We have clients that focus on long term care, managed care, and assisted living facilities that utilize our software to manage the needs of these facilities on a daily basis. WinPharm supports all of the latest technology from IVR systems for auto refills using your phone system, to E-scripts from doctors offices, robotic dispensing machines, electronic signature capture, Datascan Workflow, all the way to integrating with our proprietary point of sale software. Our software and the interfaces / add-ons built off of it offer all of the latest technology available to run your pharmacy or dispensary.

WinPharm Software Features:

Full HIPAA compliance and certified for NCPDP D0 claim submission
Full IVR System Integration for refill requests via telephone automated system
Full E-Scripts Integration available
Ability to synchronize customers with our POS software
Full Verification module built-in
Ability to scan / lookup hardcopies of RX including displaying in verification software
Option for pill image database
Easy to read color coded daily RX log
Ability to lookup and add new drugs and most plans
Single and Multi-user system support
Speedy refills by selecting multiple prescriptions from the patient's profile
Automatic COB Billing (bills secondary insurance)

If your current system is not serving your needs either technically or financially, contact us for a competitive quote.
datascan pharmacy prescription fullfillment independent pharmacy IVR systems HIPPA compliance POS software WinPharm pharmacy software
Booth #10032
flexTRAX by KeyCentrix™

The Best of POS for Less

Designed to provide independent pharmacies complete solutions for success in a competitive market, the flexTRAX Point of Sale offers affordability and efficiency. Reporting tools streamline business operations, accounting, and inventory management. Hassle-free automation and unlimited catalog imports ensure you have the most up-to-date information for your customers and your business. For complete business management solutions, a seamless pharmacy software interface is available with RxKey® and New Leaf Rx®; barcode interfaces are also available for most pharmacy management systems. The first of its kind, the flexTRAX POS system is IIAS compliant for accepting FSA cards.

Detailed Reporting Tools
Item FSA Eligibility Validation
OTC Catalog Uploading
Multi-register Management
Clerk Codes
Electronic Signature Capture
Simple Menus
Pharmacy Software Interfaces
IIAS certified for FSA Cards
Low Cost of Implementation
Inventory Reordering Tools

KeyCentrix delivers more than software – contact us today for an interactive flexTRAX demo or to learn more.
Pharmacy IRS regulation, RxKey Retail POS Systems and Pharmacy Point of Sale Software, KeyCentrix Retail POS Stations and Pharmacy Cash Register Technology by RxKey
Booth #10041
Micro Merchant Systems

...because it's not just filling prescriptions any more...

The focus of a pharmacist has always been to help people. You need tools that ensure dispensing errors are caught before the medication is delivered to the patient and at the same time make sure that the workflow in the pharmacy contributes to the pharmacy's efficiency and productivity to ultimately do what you had wanted to do in the first place… HELP your PATIENTS.

For over 20 years, Micro Merchant Systems has provided solutions to independent pharmacies.

Micro Merchant Systems Inc, over the years has been working hand in hand with pharmacies and helping them cut down costs and improve productivity. All MMS products have been designed with extensive input from pharmacists and utilizing the latest and advanced technologies like Microsoft® .net and SQL relational database technologies. Our products are fully secure and comply with HIPAA standards.

The rationale behind our product line's success is to have individual, customizable products that are designed to thoroughly fulfill specific needs in your pharmacy:

PrimeRx: PrimeRx, our core product, is absolutely essential to every pharmacy! PrimeRx uniquely combines its user friendly features with the support of the Windows backbone. This strong combination generates a program that is not only aesthetic and appealing in its design, but is also easily manageable at all skill levels.

PrimePOS: PrimePOS is our state of the art Point of Sale system which ascertains rapid and precise customer check-outs. In addition, PrimePOS fully integrates with PrimeRx, our pharmacy software. Individually, each program is great but their partnership is exceptional! It empowers you to manage your inventory more efficiently, keeps in house thefts in check and provides complete accountability of daily operations.

PrimeESC: PrimeESC (Electronic Signature Capture) is a sleek, high-tech module that scans and links your patient's signature to his/her record in your pharmacy system. This product is ideal for pharmacies looking to handle their paperwork in an orderly and organized fashion. Often, pharmacies have a tough time keeping a record of prescription pick up. PrimeESC helps you with this task by maintaining an electronic log with the customer...

PrimeDMS: PrimeDMS (Document Management System) is a comprehensive process that allows you to scan Rx, Patients ID cards, Insurance Statements, Letters from Doctors, Drug Manufacturers and basically everything that is paper in to a digital image that is then stored and attached to its respective records.

PrimeDelivery: PrimeDelivery provides a very efficient and robust solution for managing patient deliveries. PrimeDelivery increases the accuracy and efficiency in the workflow of the pharmacy. It consists of two modules (In House and Wireless) so that the pharmacies can choose either one of the modules or use them both together for maximum effectiveness.

PrimeWeb: Recently, the Internet Expansion has broken boundaries by making the entire World accessible with just a mouse click. Therefore, PrimeWeb has taken this concept and applied it to Healthcare by bringing Patients, Doctors, Health Facilities and Pharmacies closer than ever before.

We help the pharmacies of today…become the pharmacies of tomorrow.
pos software, micro merchant systems, PrimePOS, user friendly software, pharmacy software
Booth #8234
Retail Management Solutions

The Leader in Pharmacy Point-of-Sale Innovation

Successful pharmacies rely on RMS systems. More independent pharmacies choose RMS POS systems than any other – for profitability, efficiency and reliability.

Whatever the size of your pharmacy, we have you covered.

Meet EvolutionPOS™-- your new portable register.
RMS brings you the first pharmacy-proven handheld transaction terminal. All cash register functions are immediately at hand, yet require no counter space. EvolutionPOS costs less than conventional POS registers, yet offers increased efficiency and better customer service. You can:

Process transactions anywhere in your store
Enhance customer service with drive-thru capability and curbside pickup
Ensure you have all available prescriptions before you leave will call
Reclaim valuable counterspace in your store by eliminating a traditional register footprint
Deliver prescriptions anywhere with EvolutionPOS 3G.

Star-Lite POS
Designed with clinic and apothecary pharmacies in mind, Star-Lite is the perfect fit if your focus is prescription tracking and workflow completion. Scan prescriptions and OTC's and interface with most pharmacy management systems.Process credit/debit/FSA cards as well as online check verification.Capture signatures for controlled substances, HIPAA, safety caps, third-party and more. Additional features include biometric log-in, daily bank deposit and end-of day reporting.

Star-Plus POS
The most robust pharmacy POS system in the industry. Star-Plus builds on Star-Lite, adding inventory control, wholesaler interfaces for price updates, purchase orders and advanced reporting. On the marketing side, label and sign making is included, along with a robust customer loyalty program, gift cards (including major national brands), merchandise refund cards and promotional event management.

Star-Link Enterprise Solution
For the multi-store and chain environment, Star-Link unifies information management across multiple sites.You specify the degree to which products, pricing and ordering are managed, whether centralized or localized at store level. The system eliminates repetition at each site, while allowing for local changes when necessary. Centralized A/R management, shared product files, and secure web-based multi-store reports accessible from anyplace you have internet access.

Powerful, proven front- and back-end systems
All RMS systems meet or exceed all applicable industry standards and regulations. Our team is the largest, most experienced pharmacy POS staff in the nation, with 24/7 support across all North American time zones. Both phone and live chat support is available to ensure the best customer service and support experience in the industry.

Please click on the REQUEST INFORMATION button below or call us toll free at 877-767-1060 to discuss your needs further.
Cash and Transaction Management Scan Prescriptions at the Register Promo Manager Transaction Log Viewing Integrated Credit Card Processing Accounts Receivable management Track pos software, point of sale software, pos systems, pos, point-of-sale, pointofsale, retail, inventory control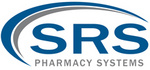 Booth #8237
SRS Pharmacy Systems

Total Pharmacy Integration... One Vendor!

Over 20 Years of Supporting Community Pharmacy
Since 1989, SRS Pharmacy Systems has focused on building pharmacy management software that helps community pharmacies operate more efficiently and accurately, keeping processes consistent, inventories low and profitability high.

Total Pharmacy Integration
The key to maximizing profittability is total integration from top to bottom. All SRS modules are directly integrated with our core pharmacy management software, PKonRx. Modules include:

PKonRx
NPI and DEA Number Validation
Rx Scanning & RPh Verification
POS w/eSignature
Integrated Credit, Debit & FSA Card Processing
Drive-Thru Wireless
LTC/MAR
IVR & PhoneManager
Smartphone & Web Rells
Text Message Alerts

RxTwin: Integrated Onsite Backup Server

Proactive network, system and component replacement
SQL database for reliability and speed
Web access from each station
Fast and stable C++ programming

One System, One Vendor, One Call!
Pharmacies gain because SRS doesn't outsource its technology. SRS directly develops, supports and services all core system, software and hardware. SRS components are software and hardware pre-configured.SRS automatically maintains software drivers, system updates, security functions, and PBM requirements. Additionally, SRS pharmacies have a SINGLE SOURCE for all pharmacy support needs, allowing SRS pharmacies to focus on customer care and let SRS focus on computer system care!
Transaction Log Viewing Integrated Credit Card Processing Accounts Receivable management Track HIPAA Privacy Statement Signatures RMS / Retail Management Systems, QS1, Emporos, AmerisourceBergen, OpusISM, SRS, SpeedScript, HBS, pos software, point of sale software, pos systems, pos, point-of-sale, pointofsale, retail, inventory control, efficiency, automated updates, network management

Booth #10033
HELPING YOU BUILD A SMARTER PHARMACY

The pharmacy business is no longer just about selling prescriptions. Today's pharmacies are increasingly dependent on their front-of-store retail operations to maintain margins, fuel growth, and – of perhaps greatest importance – meet the growing expectations of their customers.

Retail is a highly specialized discipline that's significantly different from your prescription business. Pharmacy chains and big boxes have spent millions perfecting retail methods and practices that allow them to operate efficiently, market effectively, manage their assets, and create a very positive customer experience. Fortunately for you, so has Epicor®.

Discover Epicor Eagle®, a leading point of sale and retail business management solution proven to give independent pharmacies the specialized capabilities and advantages needed to compete, thrive, and grow in today's demanding retail environment.

Create a superior customer experience.

With features like high-speed credit card processing and electronic signature capture, Epicor's state-of-the-art POS solutions enable you to provide fast, efficient and secure checkout.
With Epicor Mobile POS, you can take the cash register into the aisles and right to the customer.
At the drive-thru window, with Eagle you can capture payment, accept signatures, and provide a receipt without the customer getting out of their vehicle.
With deliveries, you can do full checkout, accept signatures, and email the receipt to the customer.
Our software provides a true real-time solution enabling you to fully comply with HIPAA and other government requirements. It also ties to the SIGIS approved database and is fully IIAS compliant, allowing you to accept FSA and HAS debit cards, along with major credit and debit cards.
The Eagle Gift Card and Loyalty program software lets you reward your regular customers while collecting valuable data for a wide range of marketing activities to drive store traffic.
Epicor's Gift Card Mall integration with InComm, one of the largest providers of Gift Cards, allows you to add margin opportunities at minimal cost.

Automate, integrate and streamline your business.

Our wireless mobile handhelds make it fast and easy to perform physical inventories and update system pricing from the store floor.
Create faster transactions with POS Touch
Performance Manager provides in depth business analysis to help you pinpoint and anticipate issues based on real-time data
Mobile Manager gives you quick, any-time access to inventory, sales, customer information, and more.
Epicor integrates sales, inventory, purchasing and receiving across multiple stores to improve efficiencies, and cut costs.

Manage your assets to maximize your profits.

Remove the guesswork with precision demand forecasting, and reduce overstocks and stockouts with Epicor's new Inventory Planner
Customizable "dashboards" feed to you a continuous, real-time overview of your business' performance, with the power to instantly drill down to any level of detail.
Eagle can automatically track your inventory and alert you when it's time to reorder so you avoid stock outs.
Eagle even supports multi-store sales, inventory, purchasing and receiving in real time

And with Epicor, you never have to go it alone.

With nearly 40 years of experience delivering true best-of-breed retail solutions to over 20,000 customers, there is not a more trusted partner to help you take your pharmacy to the next level.
Epicor offers a comprehensive range of unique consulting, training and support services.

Pre-installation consulting services
Complete implementation and data conversion
Customer training by Epicor experts is available onsite and online
Nationwide team of Local platform specialists provide fast, expert onsite or phone support and maintenance
Professional Advice Line support available

Bottom line? Epicor will help your entire business run more smoothly and give you greater access to information and increased control over operations, expenses, and profits. We welcome the opportunity to meet with you and explore how our leading retail solutions can help you build a smarter pharmacy.
Booth #10039
Transaction Data / RX30

The Pharmacy Management System

The Rx30 Pharmacy System provides your pharmacy incomparable Prescription Filling, Nursing Home, Consulting, Accounts Receivable, Workflow Management, Signature Capture, IV processing, Compounding, Integrated POS Solutions and an abundance of value-added vendor interfaces to provide you a total turnkey dispensing solution. Whether you are a small independent start-up filling 30 prescriptions a day or a 100+ independent chain operation filling 1500 prescriptions a day - Rx30 is the perfect solution!

Rx30 Point of Sale

The Rx30 Point of Sale System is designed for our customers that desire seamless product integration to the Rx30 Pharmacy Management System, complete two-way data communication, FSA/CC ready functionality, Total management of pharmacy Rx/OTC product lines, and provides the satisfying comfort of knowing that you are supported by a single source vendor that is committed to the service and support of it all! Better yet, you will be thrilled to find that you can finally have an integrated Point of Sale System at the price that you've been wanting for so long!

Through the years, you've trusted Rx30 to produce the best. Now, with the addition of our NEW Rx30 POS, you'll see that we've once again delivered, and delivered at a price that truly makes sense for your Independent Pharmacy!!

Take a look at a few of Rx30's POS features:

FSA/HSA READY!!
Full online Credit/Debit card processing
Full Rx30 Pharmacy Management System integration
Integration with Rx30 Accounts Receivable Program
Easy to Use Touch Screen Application
Wholesaler Product load and Pricing file updating
Integrated Electronic P.O's - OTC and Rx
Inventory Control
Rx Tracking features: Relationship linking, Rx linking
Electronic Signature Capture - CC/Hipaa/3rd party logs
Wireless Inventory Scanning - Optional
Much, much more...

Prescription Processing

Prescription processing is the heart of Rx30's Pharmacy Management Software. Rx30's tremendous growth over the past several years is attributed to a well coordinated blend of independent pharmacist input and unparalleled programming expertise. Having the concept of how it should ideally function is important, but also making it smoothly operate in the reality of a hectic work environment - is critical to your needs. Rx30 has created a proven, successful balance of coordinating Pharmacist expertise with programming know-how to create a Pharmacy Management System that is extremely efficient, powerful, user-friendly, and yet extremely adaptable to the continual change in market demands! You'll simply love how Rx30 functions in your pharmacy!!

Rx30's Pharmacy Management System contains all of the complex tools required of today's pharmacist. From refilling prescriptions in seconds, to being alerted and guided through drug interactions, duplicate therapies and allergies, or giving you the ability to scan in the hard copy prescription, track workflow, instantly find Dr. NPI/DEA information, print built-in Medication Guides, view internal Facts & Comparisons, reconcile EOB's electronically, send outbound compliance emails, adjudicate claims in 1-3 seconds, and in the very near future - receive Dr. faxes into Rx30 as internal images! It's not hard to see that this in not your ordinary Pharmacy Management System!

Check out just a few Rx30 features that are included at NO extra charge!:

Dr. NPI/DEA Lookup
www.Refillrx.com
Pill Imaging
Internal Facts and Comparisons
Internal Medication Guides
Enhanced Workflow
Emailing for Compliance!
Rx30 Pharmacy System and transaction data systems on software and fulfillment prescription process and point of sale software. interfaces that provide Prescription Filling, Nursing Home, Consulting, Accounts Receivable, Workflow Management, Signature Capture, IV processing, Compounding. Integrated POS Solutions with Rx30 Point of Sale on POS integration to the Rx30 Pharmacy Management System.

Booth #10040
Paladin Data Corporation

Powerfully Simple Point of Sale System

Your Prescription-Strength Pharmacy Point of Sale Solution

At Paladin, we recognize the challenges pharmacies face in the competitive world of superstores. Our goal is to meet and exceed those challenges and provide you with a solution.Paladin's point-of-sale system is designed to craft your professional image while improving your pharmacy's front-end profits and efficiency. Our trusted business model promotes confidence and security when choosing the best point of sale solution for your pharmacy.

Paladin supports your budget by offering a set monthly subscription that avoids high up front software licensing fees and keeps the money where it belongs: in your pocket.
Paladin's convenient software licensing is month-to-month, meaning no long-term contract.Now that's a feature anybody can get used to.

Straightforward and easy to use, our point of sale solution accomplishes more with the least amount of impact on your operations. With 30 years of experience, Paladin proves to be successful, dependable, and hassle free.

Paladin's point of sale contains many hassle-free components:

Electronic Signature Capture, Insurance Proof of Pick-Up
Easy Acceptance of FSA Cards
OTC Inventory Management and Margin Control
Simple Accounts Receivable Reports
High-Speed, Integrated Credit Card Processing with:

P2P Encryptions – Your card data is safe
Tokenization
AVS Verification

Other Paladin Features That Enable Your Pharmacy to Run Smoother:

SIGIS Certified, IIAS-Compliant
Comprehensive Inventory Management Solution
Electronic Integration With Wholesalers
NPLEx Certified
"Stop-Meth" Tracking with Signature Capture
Dispensing System Integrations
Customer Loyalty Program
Email Invoices
Store Credit Card Tokens for Mail Order and Regular Customers

Paladin Point of Sale fits your budget and your business.Big or small, Paladin's system is perfect no matter what size pharmacy you're operating—from one register to a dozen. Paladin is more than the right solution—it's the best solution.

Easy to Buy. Simple to Use. And Reliable.

At Paladin, we never cut corners. We believe a point of sale system must be user friendly, fast acting, and trouble free. That's why our proven system is the industry's most powerfully simple program with all the features and tools you need—with a pricing model that's guaranteed to save you money.

Fast Facts about Paladin:

Train a new checker in as few as 15 minutes
Software updates are always current

Paladin point of sale gives you power over inventory and accounts receivable—the way it should be. We'll even transfer your existing point of sale data into Paladin. Get started at a set subscription price with no long-term contract so you can get back to doing what you do best: serving your customers. And we'll be right behind you all the way, making it simple, affordable, and even enjoyable.

Stop feeling inferior to big-name superstores. Start feeling superior today with Paladin's Pharmacy Point of Sale solution.

Paladin Data has been developing, supporting, and delivering point of sale systems for over 30 years. The people at Paladin Data Corporation are experts in the field and look forward to hearing from you.
Paladin data systems on Point of Sale, POS. System is SIGIS_Certified and IIAS Compliant. Paladin Point of Sale, POS systems and Inventory Management Solutions. Electronic Integration With Wholesalers Electronic Signature Capture, Insurance Proof of Pick-Up. Electronic Tracking and Signature Capture For Federal "Stop-Meth" Program Items.
Booth #8236
CAM Commerce Solutions

RetailSTAR Rx 10.1 for pharmacies now available!

IIAS Compliance and Custom Reporting by CAM Commerce Solutions Come Standard in RetailStar's Pharmacy POS

RetailStar is a complete point of sale software solution that interfaces to most pharmacy systems in real-time. Our software gathers signatures for Third Party RX signature logs, HIPAA Notice of Privacy Policy (NOPP) and pseudoephedrine tracking. This all integrates with our POS system for easy reference, reporting, and auditing.

Whether your pharmacy falls under the 90% Exemption Rule or requires an IIAS approved system, we have you covered. CAM is the leader in ensuring that pharmacies are compliant with the IRS legislation.

You will no longer have to purchase third party tools to get the advanced reporting you require. RetailStar's on-board reporting tools are designed to give pharmacies the flexibility and power they need for managing their retail operations.

Features & Options

Point of Sale
Inventory Management
Customer Management
Custom Reporting
Dual Dispensing
Interface with Dispensing Systems
Manage Pseudoephedrine
Interface with Wholesaler
Signature Capture for HIPAA and RX Logs
IIAS Compliance
Loyalty/Gift Cards
Email Blast
EDI
Purchase Orders
Unique Color/Size Matrix
Mobile Applications
eCommerce

We have the resources to provide exceptional products and services!

Real Time Support
World Class Customer Service
State-of-the-Art Tech Support
Experienced Installation Team
Expert Sales Consults

"Working on reports using the Report Writer is excellent. Creating reports is very easy and every report works well. I also love the ordering via EDI! The POS screen is user friendly in RetailSTAR Rx 10.1 and my sales associates are very happy."
Doug Schultz, Owner of Tobin's,
Gift Store & Full Service Pharmacy

Learn how to automate your pharmacy store with one unique multi-channel solution!
Click on the link below to visit our website or call today for your pharmacy demonstration.
(714) 338-0200
POS Systems and POS Software with CAM commerce solutions on Point of sale Inventory management Multistore communications. Automated purchase orders Wholesalers' database loads and updates Integrated e-commerce Integrated credit card processing Automatic printing of coupons. Rental contracts HIPAA document electronic signature capture RX Log electronic signature capture Delivery Module e-invoices e-statements Pseudo ephedrine.
Booth #8233
QS/1

QS/1®'s Point-of-Sale Provides a Storewide Retail Management Solution.

More than Just a Cash Register
QS/1's Point-of-Sale (POS) system provides tighter control of front-end operations. Boost profitability
through better inventory management and employee productivity. With SIGIS certification, you can also
process FSA/HSA cards.

QS/1's POS system handles electronic signature capture for credit cards, accounts receivable, HIPAA, third-party prescriptions, counseling and safety caps. It also easily manages customer loyalty and promotional programs.

When integrated with QS/1's Pharmacy Management Systems, prescriptions are automatically removed from the pharmacy Workflow queue when they are picked up. The POS will also alert cashiers if a customer has another prescription ready for pick up.

Remote Checkout® System
QS/1's Remote Checkout system provides complete POS capabilities utilizing a wireless environment.
Whether it's a hospital bedside, a drive-thru window, an aisle inside the pharmacy or the front door
of a patient's house, you have full POS functionality in a mobile tablet. Process credit or FSA cards,
capture signatures for PSE and HIPAA as well as credit cards, scan the prescription label and print a receipt. Within the pharmacy, you can use it as an extra register during peak times.
Prescription Point of Sale Systems and pharmacy POS Hardware for Pharmacies electronic signature capture HIPAA compliant JCAHO inventory management scanner cash register cash drawer secure chain community retail outpatient independent will call integration with IVR and automation Cash and Transaction Management Scan Prescriptions at the Register Promo Manager Transaction Log Viewing